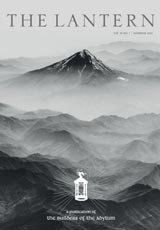 The Lantern
The Lantern, a publication of B.O.T.A., is now published only in digital format. It is available for members via the ISSUU platform. The link to the latest edition is sent to members by email.
"Thy Word
is a lamp unto my feet,
and a light unto my path."
Psalms 119:105
Below are back issues of The Lantern, making available more of the writings of Paul Foster Case, Harriet Case, Ann Davies, and others from Builders of the Adytum.
Lantern Anthology Volume 2: 2002-2005
Lantern Anthology Volume 1: 1999-2002