Los Angeles Temple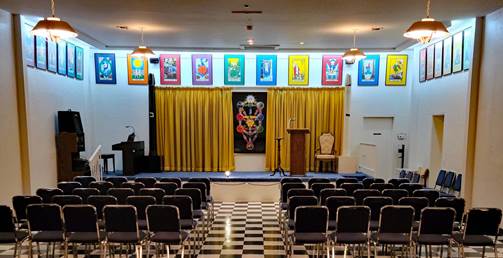 Location: 5101 North Figueroa Street, Los Angeles, CA 90042

Pronaos Coordinator:
Harry This email address is being protected from spambots. You need JavaScript enabled to view it.

Open Forum Coordinator:
Carolyn This email address is being protected from spambots. You need JavaScript enabled to view it., (323) 793-4058
3rd Saturday Schedule:
10:00 a.m. - Open Forum
11:45 a.m. - Recorded Ann Davies Meditation
2:00 p.m. - Pronaos - Open to B.O.T.A. members only. Guests must show proof of current membership.
Sunday Schedule - Open to the public
Esoteric Qabalistic Services – 11 a.m. (except 3rd Sunday)
Developed by Rev. Ann Davies, incorporating Qabalistic chanting.
Join us for light refreshments after the service.
Vibratory Attunement – 3rd Sundays - 11 a.m.
This beautiful ritual of spiritual healing and transmutation builds patterns of harmony through the vibratory formulas of color and sound.
Check the Meetup Calendar Los Angeles for scheduled Qabalistic Services
Special Events
Qabalistic Christmas Ritual – December 17, 2023 11 a.m.
B.O.T.A. members, their guests and the general public are invited to participate in Rev. Ann Davies' beautiful and inspiring Christmas Ritual.

Tarot Workshop – September 30, 2023
Sunday Service Speaker Schedule 2023
August
| | | | |
| --- | --- | --- | --- |
| | 13 | Rev. Allen | "Ascending the Tree" |
| | 20 | Fr Harry | Vibratory Attunement |
| | 27 | Rev. Lisa | "Wisdom & Folly, Key 3" |
September
| | | | |
| --- | --- | --- | --- |
| | 3 | Rev. Amelia | "Heh - 15th Path" |
| | 10 | Rev. Lisa | "Wealth & Poverty, Key 10" |
| | 17 | Sr. Patrice | Vibratory Attunement |
| | 24 | Rev. Allen | "Ascending the Tree" |
October
| | | | |
| --- | --- | --- | --- |
| | 1 | Rev. Amelia | "16th Path Vav" |
| | 8 | Rev. Lisa | "Beauty & Ugliness: Key16" |
| | 15 | Fr. Harry | "Vibratory Attunement" |
| | 22 | Rev. Allen | "Ascending the Tree" |
| | 29 | Fr. Harry | "Key 8" |
November
| | | | |
| --- | --- | --- | --- |
| | 5 | Rev. Amelia | "17th Path – Zain" |
| | 12 | Rev. Lisa | "Fertility & Sterility: Key 19" |
| | 19 | Sr. Patrice | "Vibratory Attunement" |
December
| | | | |
| --- | --- | --- | --- |
| | 3 | Rev. Amelia | "18th Path – Cheth" |
| | 10 | Rev. Lisa | "Dominion & Slavery: Key 21" |
| | 17 | | Christmas Ritual |
| | 24 | Rev. Allen | "Ascending the Tree" |
| | 31 | Fr. Harry | "Key 9" |
Sunday Service Speaker Schedule 2024
January
| | | | |
| --- | --- | --- | --- |
| | 7 | Rev. Amelia | "19th Path – Teth" |
| | 14 | Rev. Lisa | "The Purpose of Life: Key 0" |
| | 21 | Fr. Harry | "Vibratory Attunement" |
| | 28 | Rev. Allen | "Ascending the Tree" |
February
| | | | |
| --- | --- | --- | --- |
| | 4 | Rev. Amelia | "20th Path – Yod" |
| | 11 | Rev. Lisa | "Love is the Answer: Key 6" |
| | 18 | Sr. Patrice | "Vibratory Attunement" |
| | 25 | Rev. Allen | "Ascending the Tree" |
March
| | | | |
| --- | --- | --- | --- |
| | 3 | Rev. Amelia | "21st Path – Kaph" |
| | 10 | Rev. Lisa | "Health is Wealth: Key 18" |
| | 17 | Fr. Harry | "Vibratory Attunement" |
| | 24 | Rev. Allen | "Ascending the Tree" |
| | 31 | | EASTER |